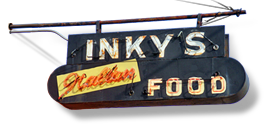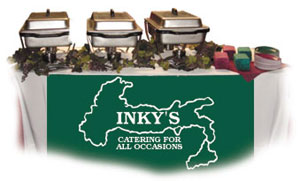 Inky's Catering has satisfied thousands of customers with our delicious food, beautiful presentation and exceptional service. Customer service is our top priority.

We would be happy in assisting you with your menu suggestions! If specialty items are needed it's not a problem. We can customize the menu for your special occasion, Your suggestions are welcome!

We can cater any type of event, anywhere, Let our passion for food make your event extraordinary.

Please keep our menu in mind, we will be happy to customize any or all options listed.
Dinner Entrees
Potatoes
Salads
Vegetables
*Carved Prime Rib w/Au Jus
Oven Baked Sunday Chicken
Sliced Baked Ham
Baked Polish Style Kielbasa
Sliced Turkey w/Gravy
Sliced Roast Beef w/Gravy
Marinara or Swedish Meatballs
Baked Lasagna, Meat or Vegetable
**Cheese Manicotti w/Marinara
**Rigatoni w/Marinara
** Cannelloni

Baked Potatoes w/Sour Cream
Whipped Potatoes w/Gravy
Rice Pilaf
Buttered Redskin Potatoes
Potatoes Au-gratin
Scalloped Potatoes
*Fettuccini Alfredo

Tossed Garden Salad with Assorted Dressings
Inky's Italian Salad
Cole Slaw
Caesar Salad
Hand Cut Garden Vegetable Tray

Desserts
Inky's Homemade Cheesecake
Cakes
Cookies

Seasoned Green Beans
California Blend
Buttered Corn
Sweet Peas
Steamed Broccoli
Steamed Cauliflower
Sweet and Sour Cabbage
Fresh Baby Carrots

* Available at an additional cost
** Alfredo may be substituted in all pasta dishes for an additional cost